Crawford: Doha C++ tutor
Certified C++ Tutor in Doha
...used in startups to develop new innovations, I've found it extremely handy in tutoring. Every student is different and so are their difficulties, so a finite set of ways to present a concept or tackle a difficulty is potentially limiting. In my experience, it's much more effective to use an adaptive framework like design thinking...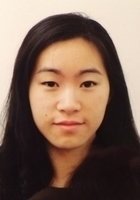 June: Doha C++ tutor
Certified C++ Tutor in Doha
...model. I participate in hackathons and robotics challenges that test not only my programming ability but also my hardware skills as a tinkerer. My engineering pursuits require a strong foundation in mathematics, my interest in the life sciences calls for a myriad of memorization techniques, and my participation in the academic world at large reminds...
Kate: Doha C++ tutor
Certified C++ Tutor in Doha
...prep, and French. I've been tutoring students in science and math for 7 years. I also spent 8 months working and studying in France, and have tutored high school and adult students in French. When I'm not working or studying, I love playing volleyball (indoors or on the beach!) and spending time outside, canoeing or...
Max: Doha C++ tutor
Certified C++ Tutor in Doha
...concepts, then leading the students through the thought process of converting problems to mathematical equations and solving these equations to answer the original problem. I have tutored high school and college students along with developing and teaching advanced engineering courses in the industry classroom environment. I am proficient in algebra, geometry, trigonometry, calculus, circuits, physics,...
Mark: Doha C++ tutor
Certified C++ Tutor in Doha
...did cyptopgraphy for a few years. Now I'm back on (the education) track. I've been teaching math and statistics at ITT-Tech for a few years and, so far, I've taught two sections of college algebra at El Camino Community College. I've also been tutoring math since high school. When I attended Central Virginia Community College,...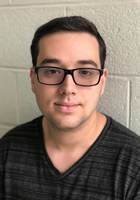 Jake: Doha C++ tutor
Certified C++ Tutor in Doha
...at Columbia Law, and I hope to pursue cybersecurity law while I'm there. I have a ton of experience tutoring in many different areas, however my specific specialty areas are Computer Science, Math (up to Calculus 2), and test prep. I love theatre, music, and video games, and I love learning new stuff!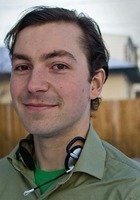 Alexander: Doha C++ tutor
Certified C++ Tutor in Doha
...sharing and inspiring knowledge is a part of who I am. I treasure the chance to watch the unique intelligence of people around me unfold. It's an adventure to encounter and systematically overcome problems put in front of us, as a team. I passionately practice that teamwork-focused approach to tutoring, and my tutees and I...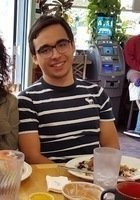 Diego: Doha C++ tutor
Certified C++ Tutor in Doha
Hi! I am an engineering student at Northeastern University who loves helping people out with all subjects. Standardized tests are just a game against the clock that we can improve in so many ways. ... I have two philosophies. 1. Practice makes perfect. 2. There's an angle to everything. I think there is always more than one way to approach a problem, and typically the test tries to make you think you need to take the...
Rostislav: Doha C++ tutor
Certified C++ Tutor in Doha
...in the optical and biological sciences. Currently I work as a Systems Engineer - I design optical metrology devices for companies like Samsung and Intel, enabling improvements in the performance and reliability of their next-generation computer chips. I'm lucky enough to apply my educational background in physics to my day job, and I enjoy extending...
Private Online C++ Tutoring in Doha
Receive personally tailored C++ lessons from exceptional tutors in a one-on-one setting. We help you connect with online tutoring that offers flexible scheduling.
Varsity Tutors can connect you with an experienced C++ tutor in Doha who can help you develop a plan for improving your C++ knowledge and skills. We can connect you with a tutor in as little as 24 hours so that you can get started learning basic concepts like namespaces, compiling code, and reserved words as well as advanced topics in C++.
A Doha C++ tutor can help you stay focused on the topics you need to learn most while prioritizing your learning needs and goals. This can make tutoring a more effective option for working toward your learning goals. If you're a student at Qatar University or another local academic institution, your mentor can supplement your classroom instruction during C++ tutoring in Doha. Working with a tutor can give you the additional time you need to learn how to work on projects in IDEs like Code::Blocks and Emacs.
A Doha C++ tutor can help you learn at a pace that's right for you. They can help you spend more time studying advanced topics like using C++ for programming operations such as dynamic memory handling and exception handling while moving more quickly through basic concepts you already understand. With C++ tutoring in Doha, you can work through complex and unfamiliar topics more easily.
Visual, auditory, and hands-on learners can work through lessons that match their learning style. If you're a visual learner, your tutor can use flashcards, infographics, and other visual teaching tools to help you learn about object-oriented programming principles like extensibility and polymorphism. If you're an auditory learner, your tutor can emphasize in-depth discussions that explore refactoring, code review, and unit testing. Hands-on learners can use pair programming to get in-the-moment feedback from Qatar C++ tutors. Your tutor can explain how to use sorting algorithms like quick sort, bubble sort, and radix sort in ways that make these and other concepts more accessible and easier to understand. Private Doha C++ tutoring lessons can give you the undivided attention of your tutor so that you can address your unique needs. Coding in real-time with the help of a tutor can make it easier to avoid common errors and improve the efficiency of your learning.
A tutor can help you address programming bugs and other issues. They can offer troubleshooting strategies you can use as you write your own code. This can make it easy for you to make edits down the line when you need to add new functions or accommodate changes in an API.
Our Live Learning Platform lets you complete your lessons online. The platform's live video chat feature allows you to connect with your tutor from your home, a local coffee shop, or a library. Qatar C++ tutors can meet your scheduling needs. You can use the shared coding editor to learn how to use conditional statements like "switch" and "nested If". Online lessons are recorded automatically in the Live Learning Platform, giving you an additional resource you can use to reinforce your understanding of C++.
If you're looking to improve your knowledge of C++, Doha C++ tutoring lessons can be the ideal option for helping you learn how to incorporate data structures in C++ such as arrays and objects. Tutors can tailor lessons to your learning needs and preferred learning style. This can make tutoring a more effective method of learning C++ when compared to traditional classroom courses. Contact Varsity Tutors today to learn how you can get connected with a C++ tutor in Doha.
Your Personalized Tutoring Program and Instructor
Identify Needs
Our knowledgeable directors help you choose your tutor with your learning profile and personality in mind.
Customize Learning
Your tutor can customize your lessons and present concepts in engaging easy-to-understand-ways.
Increased Results
You can learn more efficiently and effectively because the teaching style is tailored to you.
Online Convenience
With the flexibility of online tutoring, your tutor can be arranged to meet at a time that suits you.
Top International Cities for C++ Tutoring