Private In-Home and Online Trigonometry Tutoring in Charlotte, NC
Receive personally tailored Trigonometry lessons from exceptional tutors in a one-on-one setting. We help you connect with in-home and online tutoring that offers flexible scheduling and your choice of locations.
100% Tutor Satisfaction Guarantee
At Varsity Tutors, we're committed to connecting you to top tutors capable of delivering an outstanding experience. That's why we provide a 100% tutor satisfaction guarantee.
How can a Trigonometry tutor help you?
If you are enrolled in an engineering or architecture program, you might need to know the basics of trigonometry. Since this is a subject that builds on the information covered in previous lessons, falling behind in a trigonometry class may be detrimental to your classroom performance. For that reason, it is important that you properly understand the concepts covered in each class. If you find yourself lost, don't let yourself become frustrated or confused. Rather, contact Varsity Tutors and explore your options. We may find you an expert trigonometry tutor in Charlotte who may work at a time that is most convenient for you.

Call us today to find trigonometry tutors in Charlotte, NC, to potentially help you do well in the course. Whether you are a student in high school or college, we may help you find a tutor who is perfectly suited for you. Private lessons mean that you might benefit from one-on-one sessions that give you the opportunity to interact with your tutor. You may work together with your instructor to solve problems, learn about Ptolemy's theorem, or calculate angles. It also means that you have access to a professional instructor who is committed to seeing you succeed, and may explain difficult concepts in a manner that is easy to understand. Moreover, private lessons also give your tutor the opportunity to observe your performance and progress, so that they may give you important feedback to aid you in working to improve your understanding of trigonometry.
Private 1-on-1 Tutoring by top UNC/Duke Grads. We serve Charlotte and all suburbs.
Session Summaries by Trigonometry Tutors
"The student worked on a review of graphing sine and cosine functions and their transformations for an upcoming test. She worked on exercises where she had to identify the amplitude, vertical shift, period, phase shift, count by given the equation of a sine or cosine function and then graph it. She also worked on exercises where she had to take information from a graph of a sine or cosine function and write an equation in standard form. She has a very good understanding of the material and has no trouble setting up the problems and graphing the transformations. "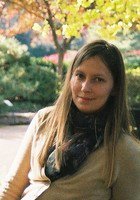 "The student just returned from spring break and started working with law of sines and cosines. He had a worksheet covering law of sines he wanted to work on. He seemed to have a bit of trouble understanding how to tackle a problem involving two triangles. I tried to show him to take on the problem piece by piece. I believe this is the best way to approach any problem that is not small so as to not overwhelm yourself. After a few practice problems he began to get the hang of it. Next he seemed to have trouble creating a diagram from a description. Again I told him it's best to think about each sentence rather than the passage as a whole when constructing a diagram. This seemed to fix the problem. Finally, when we finished the packet, we had a short review of law of cosines. I suggest the student works on constructing diagrams more if possible."
"Concepts covered: half angle formulas and equations involving sine and cosine. Student understood half angle formulas at the end of the session."