Private In-Home and Online Math Tutoring in Charlotte, NC
Receive personally tailored Math lessons from exceptional tutors in a one-on-one setting. We help you connect with in-home and online tutoring that offers flexible scheduling and your choice of locations.
100% Tutor Satisfaction Guarantee
At Varsity Tutors, we're committed to connecting you to top tutors capable of delivering an outstanding experience. That's why we provide a 100% tutor satisfaction guarantee.
How can a Math tutor help you?
Common Core math is a diverse area of study that focuses on a broad range of topics. Starting in kindergarten, and ending in their senior year of high school, students are expected to complete a number of mathematical courses. Students are provided their education in sequences, beginning with basic material and slowly advancing throughout their education. Traditional classroom-based learning may be too impersonal for some students who may need to work slower or faster than their classmates. Whether your child is a student in elementary-level or high school-level math, individualized math tutoring in Charlotte, North Carolina, may help your child to excel in their course.

The Varsity Tutors educational directors may find you an expert math tutor in Charlotte to cater to your child's specific needs. The directors may factor in a number of aspects of your child's personality, such as learning preferences, curriculum, strengths and weaknesses, and many others. If you are aiming to prepare your child for their End of Course (EOC) or End of Grade (EOG) exams, they may find a tutor who may focus your child's attention on test preparation.
Private 1-on-1 Tutoring by top UNC/Duke Grads. We serve Charlotte and all suburbs.
Session Summaries by Math Tutors
"He had a review packet to study from so we started with that, working page by page going over each problem. He was challenged the most with find the GCF of variables. We did several practice problems of those sort as well as problem sets of him working on his own."
"Today's session was focused on decimals and converting them to fractional form. The student is showing mastery of the basic concepts of decimals, so I decided to make the task more difficult by using lower valued decimals (e.g., .035 instead of .35). This required him to understand the relationships of places, which he was able to do by the end of the session. We discussed how to write decimals properly in "word form." We also spent some time visually showing decimals and their fraction equivalents. The last bit of our session was dedicated to me teaching him how fractions can equal each other by multiplying the numerator and denominator by the same number (e.g. 2/3 is the same as 4/6). This will be something we revisit during a future session."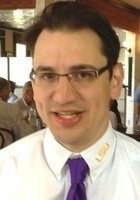 "Tonight, we completed a comprehensive math practice exam. He is very good at completing calculations, but is challenged with geometry and areas that he has not yet covered in school. He did great on the practice exam! We will keep working on geometry until time for the exam."