Cantonese Tutoring Near Me
Private In-Home and Online Cantonese Tutoring Near You
Receive personally tailored Cantonese lessons from exceptional tutors in a one-on-one setting. We help you connect with in-home and online tutoring that offers flexible scheduling and your choice of locations. Varsity Tutors helps thousands of people asking, "How do I connect with the best Cantonese tutors near me?"
100% Tutor Satisfaction Guarantee
At Varsity Tutors, we're committed to connecting you to top tutors capable of delivering an outstanding experience. That's why we provide a 100% tutor satisfaction guarantee.
Looking for "Cantonese tutors near me"? Varsity Tutors can help.
Cantonese is a dialect of Chinese spoken in Hong Kong and internationally, and is notable for its relative popularity in the United States. If you've made it your goal to learn Cantonese, whether in preparation for a trip, for business purposes, or to fulfill an academic language requirement, it is important that you be particular about the way in which you go about learning this language. Classes that simply teach you Chinese may very well teach you Mandarin, the dialect of Chinese that is spoken by the greatest number of people. While Mandarin and Cantonese both are represented using Chinese characters, a great number of differences between the dialects make them extremely distinct, to the point where speakers of each are unintelligible to one another. Your Cantonese tutor can assist you in speaking and writing this dialect most fluently.
The way in which a Mandarin speaker and a Cantonese speaker pronounce a certain character can differ widely, and Cantonese involves unique grammatical rules and sentence structures in comparison to Mandarin. Cantonese also includes characters not used in Mandarin, and to make matters more confusing, certain characters can mean one thing in Mandarin and a completely different thing in Cantonese! Obviously, if you want to learn Cantonese, you need to find instruction and resources that deal with this dialect specifically. In the long run, you will be able to effectively communicate and possibly find opportunities you never thought possible - from detailed conversations with Chinese friends to furthering your studies in this area, or landing a job that requires such abilities. A future trip to China can end up being productive and interesting, being that you'll be able to communicate on an impressive level with the locals.
4.9/5.0 Satisfaction Rating*
Recent Tutoring Session Reviews
"I went over her practice test that she had taken earlier that day in preparation for her chemistry exam on 4.26. The test reviewed many topics from this semester as well as new material on the crystal field theory and splitting energy."
"Today the student had to take a practice midterm exam of the first six sessions since we started working together. As far as the material goes, she seemed to be pretty comfortable with it. There are still some things she needs to work on, but we had already gone over those together. We also reviewed the second half of material since we picked up our sessions again. Since those are more recent, she didn't have many questions with the concepts. "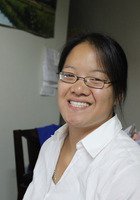 "To start I gave the student a quiz on the vocabulary from lesson 4, dialogue 1, which he did very well on. We briefly reviewed grammar, then spent most of the remaining time working on translations, mostly from English to Chinese."