Private In-Home and Online ISEE Tutoring in Canton, OH
Receive personally tailored ISEE lessons from exceptional tutors in a one-on-one setting. We help you connect with in-home and online tutoring that offers flexible scheduling and your choice of locations.
100% Tutor Satisfaction Guarantee
At Varsity Tutors, we're committed to connecting you to top tutors capable of delivering an outstanding experience. That's why we provide a 100% tutor satisfaction guarantee.
How can a tutor help your child master the ISEE?
The Independent School Entrance Examination, or ISEE, is a test used for admission into competitive elementary, middle, and high schools. There are three levels of the ISEE. The ISEE Lower Level is for students in 4th and 5th grades. The ISEE Middle Level is for students in 6th and 7th grades. The ISEE Upper Level is for students in the 8th through 11th grades. If your child is preparing to take any level of the exam, tutoring can give them an edge. Varsity Tutors' educational directors can help you find a professional ISEE tutor in Canton, OH, who will cater to your student's every need.
The ISEE is designed so that the format and sections on the exam are essentially the same at each level, but the questions become more challenging on the higher level exams. The exam consists of five sections that must be completed in between two to three hours, depending on the test. The exam covers verbal reasoning, quantitative reasoning, reading comprehension, math achievement, and essay writing. With such a broad array of knowledge necessary to score well on the ISEE, thorough preparation is essential. An expert ISEE tutor in Canton could help your student potentially meet their studying goals. There are many benefits of your child working with an individualized tutor in preparing for the ISEE. A tutor can assess your student's strengths and weaknesses and provide focused training to meet your student's needs. Varsity Tutors could help you find a professional ISEE tutor in Canton who can offer your child engaging study sessions to make the best use of their time. Tutors can meet at any location you prefer, including face-to-face online sessions, and will schedule sessions to fit into your child's schedule. This kind of personal attention is massively beneficial to students and cannot be matched by any classroom experience. A professional tutor will be dedicated to seeing your child succeed on the ISEE. Furthermore, a tutor can work at a pace that is comfortable for your student. They can move quickly through topics your child has already understood and spend extra time on topics that need improvement.
4.9/5.0 Satisfaction Rating!* Private tutoring by top Case Western grads.
Session Summaries by ISEE Tutors
"We covered more SAT Math non calculator problems. We went over the sample questions, and reviewed more concepts we didn't get to yesterday, particularly completing the square, exponents, solving rational equations, using quadratic vertex forms and the equation for a circle, as well as more word problems. We sprinkled some test taking strategies in between. Once again, she was a great student who was hard working, focused, and a pleasure to work with. She did a great job with the questions I assigned her from the last session. I wish her all the best on her test! "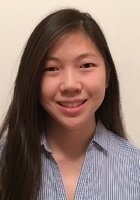 "We began the session by going over the format of the Mathematics Level 2 Subject Test, and we discussed some general strategies for the test, including time management. We then delved into four content areas that the student had specified she wanted to review: piecewise functions, vectors, polar coordinates, parametric equations. Many of the concepts we reviewed were relatively new for her, but she is a quick learner with a positive attitude. We made a lot of progress in just two hours. "
"Today, we reviewed the questions I assigned the student for homework. She showed great progress with composite functions and domain and range questions! Then, we began new topics. We reviewed geometry topics, which she was familiar with. Then, we worked on imaginary numbers and exponents."