Private In-Home and Online Biology Tutoring in Burien, WA
Receive personally tailored Biology lessons from exceptional tutors in a one-on-one setting. We help you connect with in-home and online tutoring that offers flexible scheduling and your choice of locations.
100% Tutor Satisfaction Guarantee
At Varsity Tutors, we're committed to connecting you to top tutors capable of delivering an outstanding experience. That's why we provide a 100% tutor satisfaction guarantee.
Session Summaries by Biology Tutors
"We covered one chapter in 9th grade science. The topic was the earth's atmosphere - what it is composed of and what it does. She is an enthusiastic student who wants to be able to understand and retain the information in her head so that she can repeat it back on a test. "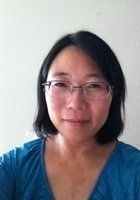 "Covered titration problems for both weak acids and strong acids being titrated by strong base and strong acids respectively. Calculating pH at different points in the process, using Ka or Kb for initial pH, using Henderson-Hasselbalch for the buffering period, the Ka or Kb as appropriate at equivalence point, and finding concentration of excess strong base/acid after equivalence point. "
"We started by reviewing the trends in Periodic Law for atomic radii, ionization energy, and electronegativity. Then we focused on the student's most recent test by redoing problems on isotope abundance and radioactive decay. I showed him a way to organize typical calculation-based problems which we will build upon as his class reaches other topics which are heavily based on calculations. I also asked him to start making a list of the topics covered in each class, as soon as he can after that class, and send me copies for each session. Next session I will be giving him some problem sets to work on to help cement the concepts. "