Private In-Home and Online Microbiology Tutoring in Baltimore, MD
Receive personally tailored Microbiology lessons from exceptional tutors in a one-on-one setting. We help you connect with in-home and online tutoring that offers flexible scheduling and your choice of locations.
100% Tutor Satisfaction Guarantee
At Varsity Tutors, we're committed to connecting you to top tutors capable of delivering an outstanding experience. That's why we provide a 100% tutor satisfaction guarantee.
Session Summaries by Microbiology Tutors
"The student and I spent this lesson on empirical formulas (chapter 3) and chemical kinetics. We went through ways of determining empirical formulas of compounds using relative molarity, mass, and percent composition of elements. She picked up this material very quickly, and successfully solved the mass problems using a method involving assuming that the total mass of the compound is 100g. In chemical kinetics, we went through a systematic conceptual overview of reaction rates, concentration and rate, and change of concentration over time. We also discussed reaction orders and half-lives. On her request, I assigned the student a certain set of problems which covered material on which she could use more practice. For the next lesson on Monday, the student will finish problems in chapters 14, 4, and perhaps 5. She was quick and concentrated during the lesson, and is mastering basic chemistry at an impressive pace. She will be even more fluent in the subject area as she learns not only to apply, but to devise, equations that model chemical situations."
"He said now it is time to focus on this chapter to bring up the grade. Today we started evolution and specifically Darwin. We went over Darwin's voyage, and I helped him understand why this was such an important voyage in history. This chapter has a lot of vocabulary, so we went over some key terms and I will put it online. Evolution, adaptation, homologous structures, natural selection, and fitness were explained. We spent the duration of the session going through the reading and filling out a study guide. I will try to bring in some stuff to make it more interesting as well as create questions for him to do. "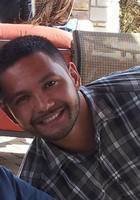 "Tour of the cell: How we study cells, prokaryotic vs. eukaryotic cells - nucleus and presence of organelles, endomembrane system, membrane-bound organelles, function and components of the cytoskeleton, animal and plant cells junctions and cell surfaces. Membrane structure and function: Fluid mosaic model of the plasma membrane and the components that allow for its fluidity, importance and function of integral and peripheral proteins as well as the function of membrane carbohydrates in cell-cell recognition. Finally, we discussed traffic across the membranes: passive vs. active transport; diffusion vs. osmosis; hypertonic, isotonic, and hypotonic solutions; integral proteins as transport proteins in passive (channels) and active transport (Pumps and co transporters)."