Private In-Home and Online MCAT Tutoring in Auburn, WA
Receive personally tailored MCAT lessons from exceptional tutors in a one-on-one setting. We help you connect with in-home and online tutoring that offers flexible scheduling and your choice of locations.
Get results. Guaranteed.
We're proud of our students and the improved scores they've achieved. We believe your student can do the same. That's why we promise to help them get a better score or we'll give you your money back.*
Session Summaries by MCAT Tutors
"Today we focused on last minute test taking prep strategies; left student with material to work on in preparation for taking the upcoming test in July. "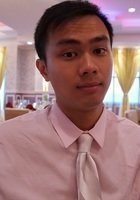 "We began the session by doing a timed biological science passage about development and mitosis/meiosis. Before completing the passage, we reviewed timing goals and strategies in grasping the most important information from each passage. We discussed getting the main point from each paragraph and writing that down to keep things clear. The student did a great job on the passage getting 6/7 questions correct. However, we discussed continuing to work on getting the timing down to 3-4 minutes for reading each passage and 1 minute for each question. We then went over some carbohydrate content questions, discussing the main reactions including glycosidic linkages and esterification. We then discussed a topic he had been reviewing a day earlier, digestion. We went over the main hormonal secretions and digestive enzymes. Next, we went over the essentials of periodic motion and did a few practice problems. Finally, I provided a list of equations that I had identified as most important for physical science. While not exhaustive, it is a nice compilation of some the main equations to know. Tomorrow, we plan to discuss the kidneys and immune system. In addition, he is planning on taking a biological sciences practice section to work on timing and trying to improve his score. "
"We went through the student's list of problems, beginning with Newtonian Mechanics, and winding our way through projectile motion, trigonometry, work and thermodynamics, momentum, and inclined plane problems. She had shown me her previous practice scores, and had been improving by focusing on a concept-oriented approach. During this session, her biggest "aha!" moments were when discussing the concepts of energy and work re: thermodynamics. We covered projectile motion problems backwards and forwards to tie in her pre-existing skill with component vector manipulation."