Private In-Home and Online English Tutoring in Auburn, WA
Receive personally tailored English lessons from exceptional tutors in a one-on-one setting. We help you connect with in-home and online tutoring that offers flexible scheduling and your choice of locations.
100% Tutor Satisfaction Guarantee
At Varsity Tutors, we're committed to connecting you to top tutors capable of delivering an outstanding experience. That's why we provide a 100% tutor satisfaction guarantee.
Session Summaries by English Tutors
"For the first hour of our session, we read a new book that was assigned in the student's lesson plan entitled "Me on the Map." It offered perspective using a bird's eye view of rooms, houses, streets, countries, and the world. After reading the book on her own, she drew a bird's eye view of her room. The next hour we practiced mental math and subtraction facts. She's quicker at giving the answers, which is great to hear. Our last hour was doing more writing practice. Her writing is improving. She just needs to practice outside of our sessions as well."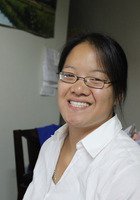 "Today the student and I covered a Math review and reading comprehension. The student did well with math for the most part but I spent extra time reviewing graphs with him. While he is very strong with labeling and plotting points on a graph, he has some difficulty identifying what the end result on the graph means. He identifies the numerical pattern very well, so I spent some extra time reviewing what the numbers mean conceptually (e.g. an increase in 5 dollars made per week). The student was able to read the passage well but had some trouble when it came to answering questions. He was able to identify the main idea of the passage right away and struggled more with the smaller details. We went over several strategies for answering these types of questions and understanding the passage, such as process of elimination and finding where in the passage the detail in the question is written about and reading a sentence before and after it. I also made sure the student focused on what was written in the passage only, as opposed to using outside knowledge to answer the questions, since author opinion often comes into play. The student seemed comfortable with everything we went over and I will follow up next session to ensure that he is able to apply these strategies effectively. "
"Topics: Reading practice, reading comprehension, spelling practice, writing practice Progress: This session went very well. The student was able to tackle some difficult words and get through a Frog and Toad story with me, without a lot of frustration. I was most happy about his handwriting, which has improved a great deal. He is able to write extremely neatly for his age, which I believe will help him in the long run, to read his own writing. I am looking forward to the next session."