AP German Language and Culture Tutoring Near Me
Private In-Home and Online AP German Language and Culture Tutoring Near You
Receive personally tailored AP German Language and Culture lessons from exceptional tutors in a one-on-one setting. We help you connect with in-home and online tutoring that offers flexible scheduling and your choice of locations. Varsity Tutors helps thousands of people asking, "How do I connect with the best AP German Language and Culture tutors near me?"
100% Tutor Satisfaction Guarantee
At Varsity Tutors, we're committed to connecting you to top tutors capable of delivering an outstanding experience. That's why we provide a 100% tutor satisfaction guarantee.
Looking for "AP German Language and Culture tutors near me"? Varsity Tutors can help.
The German language has many idiosyncrasies to master in order to excel in Advanced Placement (AP) German Language and Culture to attain an impressive score on the AP exam. While AP German classes attempt to devote class time to each of the language's aspects, every student approaches the language with a different background and learning style, so classes may leave students confused about certain facets of German. Given that AP German covers a large amount of content in a short amount of time, it is quite possible that it may fly through a concept that bewilders you in order to spend time reviewing material you already understand. Do you ever wish there was a way for you to decide exactly what your AP German class focused on so that it could proceed precisely in sync with your personal learning? Personal AP German tutoring can give you the individualized and focused attention that you need.
Varsity Tutors can connect you with AP German tutors anywhere in the world. Our educational directors take into account your particular concerns, your strengths and weaknesses, your previous experience with the German language, and even the ways in which you learn best when helping you find the instructor perfect for addressing your unique situation. They work with you to fill out a student profile that can allow tutors to view your details to determine if they would make a good match. Your chosen tutor also takes these features into account when designing your AP German tutoring curriculum, so your instruction will be custom-tailored to your situation.
4.9/5.0 Satisfaction Rating*
Recent Tutoring Session Reviews
"The student and I had a productive session today. We completed his assignment that he did not get to finish in class. We also did listening practice where he had to tell me what tone certain characters were. He has a tendency to want to rush through, so he mixes the tones. However, when he takes his time to really listen to the final rather than the initial, he is able to hear the differences and get the right tone. Mostly, we just need to practice his listening. His speaking and understanding has been improving greatly. "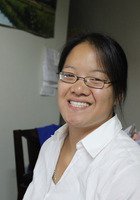 "I always start the student's lesson with reviews. She is very fluent with the Pinyin alphabets and numbers 1-10 by now. Some of the things from the previous lessons that she should still work on are conversational Chinese like "morning, goodnight...." but overall she is a fast learner. During this lesson, we covered numbers 11-20, self introduction, and things like "water, fire, stars....etc." I also assigned her homework. Her progress is really impressive for a 6 yr. old."
"It was a great session. He told me he scored in the 90s on his previous dictation test, which is great. We spent the full tutoring session on his workbook assignment because it was particularly complicated this week. He had to read, understand, and illustrate four, 3-sentence passages written in characters. He did a fantastic job, looking up words he didn't know on his phone app and patiently going word-by-word to understand a sentence. He was able to figure out some words from context, which is a new skill for him. "