Private In-Home and Online MCAT Tutoring in Ann Arbor, MI
Receive personally tailored MCAT lessons from exceptional tutors in a one-on-one setting. We help you connect with in-home and online tutoring that offers flexible scheduling and your choice of locations.
Get results. Guaranteed.
We're proud of our students and the improved scores they've achieved. We believe your student can do the same. That's why we promise to help them get a better score or we'll give you your money back.*
How can MCAT tutoring help you succeed?
Nearly every major American medical school uses the Medical College Admission Test (MCAT) as a primary factor of its admissions process. This standardized test measures your understanding of the terminology and methodology you may encounter in a competitive medical school environment. A superior MCAT score may help you get accepted into a major medical school program, while a lesser score may mean taking your second or third choice, or being shut out of med school altogether.

If you are concerned about taking the MCAT, lessons with a private tutor may be a great help in controlling those concerns. If you are seeking MCAT tutoring near Ann Arbor, the educational directors at Varsity Tutors may help you connect with a tutor who could help you achieve your academic goals. These tutors have experience in teaching all aspects of the MCAT exam. They may also provide precise techniques for every type of question you may expect to see on your test.
Private 1-on-1 Tutoring by top U Mich Honors Grads! 4.9/5.0 Satisfaction Rating*
Session Summaries by MCAT Tutors
"We completed passages from the textbook and from the website concerning topics such as fluids, phase changes, enzyme kinetics, and energy. Overall, she had the hardest time in the physics section, followed by chemistry and finally biology. She had a lot of difficulty recalling and applying physics concepts and equations to the questions and we both agreed that she will need significant content review in physics before going forward. She did OK in the chemistry questions, only missing a few questions due to simple errors, and she understandably did the best in the biology section."
"We worked on mirrors and lenses. We discussed the lens equation and magnification and focused in on spherical mirrors that are concave or convex. We also talked about convergent and divergent lenses and discussed the sign conventions for all of them i.e. when images are real or virtual and if focal lengths are positive or negative. We also looked at some ray diagrams and then we worked on kinematics problems in 1 and 2 dimensions. With the 2 dimensional problems we worked on ones that involved trig and ones that did not involve trig."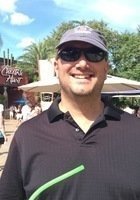 "We worked on verbal understanding of questions. Questions, whether couched in the language of science or not, share commonalities and our focus was in identifying them. I left the student with two passages to "translate" for me into thought sequences. He struggles with these concepts but I feel we are progressing."