Private In-Home and Online Chemistry Tutoring in Akron, OH
Receive personally tailored Chemistry lessons from exceptional tutors in a one-on-one setting. We help you connect with in-home and online tutoring that offers flexible scheduling and your choice of locations.
100% Tutor Satisfaction Guarantee
At Varsity Tutors, we're committed to connecting you to top tutors capable of delivering an outstanding experience. That's why we provide a 100% tutor satisfaction guarantee.
How can a tutor assist you in conquering Chemistry?
If you're looking to try to improve your understanding of chemistry, or you want to prepare for an upcoming exam or laboratory assignment, then Varsity Tutors can give you the assistance that you need to try to succeed. We will find you a skilled chemistry tutor in Akron, OH, who will work to try to give the knowledge you need to thoroughly understand chemistry. Studying chemistry in a one-on-one setting gives you the opportunity to learn the material in a manner that is easy to understand, thus giving you the ability to apply chemistry-related concepts in a practical manner. This is especially important if you plan on working in a STEM field that requires laboratory research.
Let Varsity Tutors help you try to get ahead in your chemistry studies. We can find you an enthusiastic and motivated chemistry tutor in Akron who could help you discover your true potential. You could be able to benefit from custom-tailored lessons that are designed with your specific goals in mind. This means that your tutor can create study programs that help you build upon your strengths and overcome your weaknesses while teaching you in a way that compliments your personality and preferred learning styles. In addition, since every lesson will be taught in a student-centered manner, you can receive hands-on assistance and excellent explanations as you learn about liquids and gasses, energy, and elements.
4.9/5.0 Satisfaction Rating!* Private tutoring by top Case Western grads.
Session Summaries by Chemistry Tutors
"The student had just learned moles and molar mass at school, so we went over some practice problems to solidify his understanding. Afterwards, we practiced general chemistry nomenclature in preparation for his quiz tomorrow. He had difficulty naming the polyatomic anions but I gave him some mnemonics that would help him remember."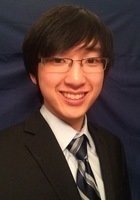 "We covered balancing equations and predicting products. She did well with balancing equations when the products were provided, but struggled with predicting products. We talked about chemical activity and how to use it to predict if the reaction will proceed. We reviewed how to balance the charge within a molecule as well as across equations. We practiced color coding atoms to help determine the type of chemical reaction. We also talked about the concept of a mole and how it relates to atomic weight. We will continue to work with this concept and begin on stoichiometry next session. "
"Today we did some practice problems that the student's professor sent out in preparation for his exam on Friday. This included balancing chemical equations, assigning oxidation numbers, limiting reagent, excess reagent, and ionic equations. "