100% Tutor Satisfaction Guarantee
At Varsity Tutors, we're committed to connecting you to top tutors capable of delivering an outstanding experience. That's why we provide a 100% tutor satisfaction guarantee.
Private In-Home and Online ACT English Tutoring in Miami, FL
Receive personally tailored ACT English lessons from exceptional tutors in a one-on-one setting. We help you connect with in-home and online tutoring that offers flexible scheduling and your choice of locations.
Session Summaries by ACT English Tutors
"The student and I had a great first session. We worked on strategies for making the test less intimidating (i.e. using material on the test to help narrow down the field of answers, etc.), and also worked on some of the gaps in his grammatical knowledge (comma usage, conjunctions). He's a quick study. The biggest thing he needs to keep practicing is subject/verb agreement--he is able to get these questions once he's able to identify the subject, but has a bit of a knowledge gap around identifying his subject. We're going to work on this area on Thursday, with an eye towards building his confidence. "
"The student and I had a good first session working together on the ACT prep. We began our sessions with introductions and with a description of the test as a whole. the student feels very comfortable with the mathematics section of the test and is putting in extra effort with timing on other portions of the practice test she took, especially on science. We discussed general strategies and differences from the SAT (especially the difference in scoring -- the ACT has no penalty for guessing!) and spent some time specifically discussing certain timing strategies -- for example, using the questions on the ACT science section to guide her understanding of the passages. After reviewing the general sections, we moved on to a review of some specific practice problems on the English section, using an online source since we didn't have a book. She has an excellent general grasp on grammatical and structural issues -- which puts her in a good starting position here. The questions on this portion of the test fall into three categories: grammar (including commas, possessives, its / it's, semicolons, verb tense, pronouns), transitions / word choice (ways to transition from one sentence to another, choosing words that are specific but not too colloquial), and structure of the passage (how should sentences be arranged to transition from one part to another). The student is familiar with the first category of question from the SAT (though we clarified certain rules, especially about the use of punctuation), and has a strong natural grasp on how to order sentences. Transitions and word choices were a little trickier, but the answers seemed to make sense to her after we spent a little time discussing them. At the end of the session, we reviewed the concepts that we had encountered in our review for the test and she seemed confident with the concepts we had covered. I asked her to complete an English practice section from the book for our session next week, so we can identify concepts that are still proving challenging and then move on to science!"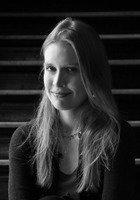 "Today, the student and I reviewed verb tenses review, clauses and comma splices, semicolon usage, subject verb agreement, dangling and misplaced modifiers, eliminating wrong answers, compound subjects and predicates, and dash usage. Next time is the last lesson, so I asked the student to have the homework completed by then."